I am so excited to share this with you today!  I've been scheming up this project for awhile, and with three days left on summer vacation, I finally put it all together.  Meet my new upcycled dining room pendant light, made from an antique egg crate!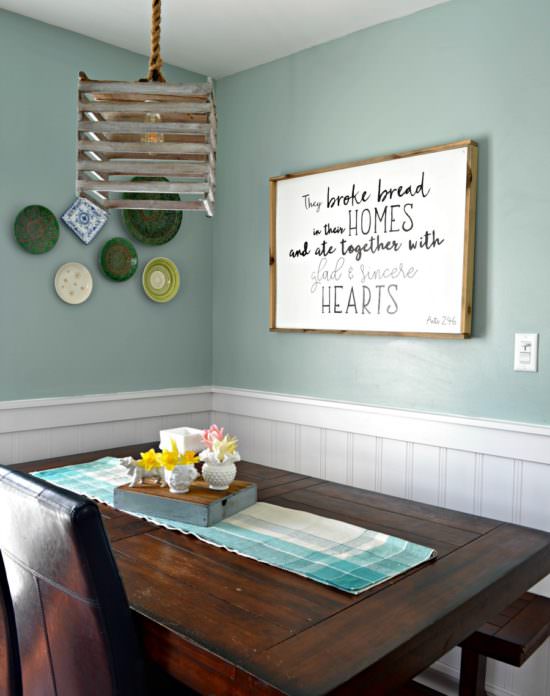 Antique egg crates aren't terribly difficult to come by, however, they are a bit pricey.  I see them at flea markets and on Etsy for anywhere between $40 and $65.  Where you can snag a deal is when the egg crate is missing parts, like the top, handle, or cardboard inserts.  I found this one at the Kane County Flea Market.  It didn't have a top, and some farmer, I presume, by the name of Wright, had, at one point in time, written their name on one of the boards.  In any case, it was perfect for the light project I had been imagining in my head.  (I didn't need a top anyway!)  Plus, the $7 price tag made it impossible to walk away from.
I wanted to maintain all the unique quirks about this piece and allow some of the worn beauty of the wood to shine.  By only whitewashing it, the printed lettering still shows through, along with the grooves and wood grain.
After remodeling our kitchen to open it up, and buying a bigger table that barely fits in our tiny space, the electrical box was no longer centered over the table.  I can install light fixtures, but that's the extent of my electrician abilities, so I simply installed a hook to swag the light to the center of the dining table. (Please ignore the unfinished wall.  Bead board wainscoting will be going up, one day.)
I love, love, love it.  I think it's one of my favorite projects that I've done in the last couple of months.  Even my husband, who was quite skeptical throughout the whole process, ("You're going to hang a what from the ceiling?!") loves it.  I call it a success.  Now, I just need to finish the rest of the kitchen…